Please read the Fall 2023 Newsletter
---
ATTENTION GRADUATES – 2 x $1000 scholarships (These have been awarded for 2023)
Please find attached the Poster and application for scholarship outlining the requirements and eligibility. Please submit by August 7th, 2023.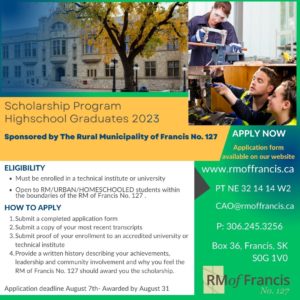 Application Form with instructions – click here
---
Don't miss the Grand Opening June 16th 2023 at PT NE 32 14 14 W2
11am-2pm BBQ
---
August 12, 2021
Available now, SaskLander – Land access management (click and read for more info)
---
[UPDATE: Bridge preparation to start June 25th and road to be temporarily closed and detoured the following Monday June 28th 2021 for construction for approximately 3 weeks] ROAD CLOSURE / DETOUR
The Bridge on the (TWP. Road 134) NE 24 13-15- W2 is part of the CTP (Clearing the path) corridor
Bridge repair and preservation is to take place end of June to mid July.
Please watch for signs of temporary road closures and detours.
The Federal Gas Tax Fund Program in Saskatchewan is  is administered by the
Provincial Government to help support municipalities.
For more information on federal infrastructure funding, visit: http://www.infrastructure.gc.ca
---
2021 March Newsletter
---
Posted: November 24, 2020 OFFICE TEMPORARILY CLOSED TO PUBLIC – BUT BUSINESS CONTINUES!
Please be advised that due to COVID, our office is temporarily closed to the Public, however, we are still working behind the scenes to keep business running smoothly while assisting you with all of your RM related needs. 
Please call our office if you have any questions or need to make payment arrangements as we have a few alternatives.
You can contact us Monday-Friday 9-4:30pm, please leave a message and your call will be returned.
If you require an appointment with the Administrator please call the office 306-245-3256.
You are always welcome to email the Reeve or your Division Councillor with questions or concerns and if you require a phone number to contact them directly, please phone the RM office and we can assist you.
Take care and thank you for your understanding and patience,
RM of Francis No. 127 Administration Team
---
BEFORE YOU BURN ANYTHING….
Please read the Tips for a Safe Fire Burn from the Saskatchewan Government
Saskatchewan Government Safe Fire Burn Tips and Information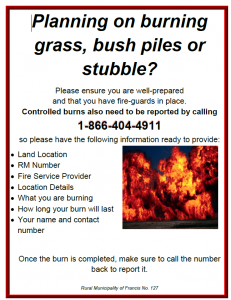 ---
ELECTIONS Fall 2020
General elections for each office are held every four years. Rural municipalities hold an election for selected divisions every two years; however, each council member holds office for a four-year term. Upcoming municipal election dates are:
Monday, November 9, 2020, to elect reeves and Councillors representing odd-number divisions in rural municipalities.
Did you know that the division you are eligible to vote is located on your tax notice sent in August?
Who can vote?
Elections Running For Municipal Council What You Need To Know
---
NEWSLETTERS