BEFORE YOU BURN ANYTHING…. please read the Tips for a Safe Fire Burn from the Saskatchewan Government
Saskatchewan Government Safe Fire Burn Tips and Information
PUBLIC NOTICE
re: COVID-19 Regular meeting March 19, 2020
RM council is taking the step of closing the RM of Francis No. 127municipal office to the public. This is in order to adhere to the preventative measures requested by provincial government and health authorities.
If you have an urgent request, please phone the office first by calling 306-245-3256 or email [email protected]
Visit our website for current notices rmoffrancis.ca
The RM of Francis No. 127staff and council will continue to monitor the COVID-19 situation. During this time, we ask that you look out for your neighbours, especially the elderly. Please, consider the needs of others, support our local businesses and encourage those working on the front lines of our health system.
Information on COVID-19 can be found here:
https://www.saskhealthauthority.ca
Please call the office phone line 306-245-3256 and leave a message, someone will return your call as soon as possible.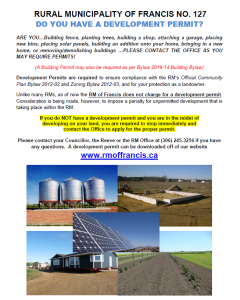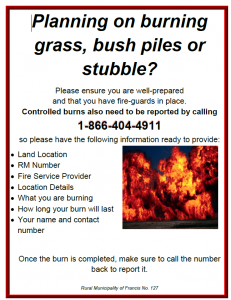 NEWSLETTERS