The RM of Francis has enacted Bylaw 2012-02 The Official Community Plan and Bylaw 2012-03 Zoning Bylaw which provide both the direction and regulations surrounding development within the RM, in-line with the provinces Statement of Provincial Interests and The Planning and Development Act, 2007. For information on subdivision, please visit Government Relations Community Planning or contact the RM Office for more information.
BEFORE YOU DEVELOP YOUR YARD SITE, BUILD, PLANT! Please fill out the Development Permit Application below and return to our office.
Thinking about Building or planting? Click here!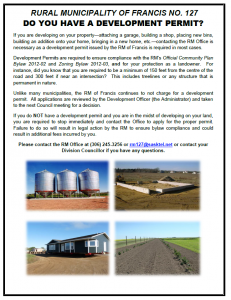 It is  the landowners responsibility to adhere to the Zoning Bylaw 2012-03 which includes all setbacks from boundary lines.  This includes but not limited to: Houses, farm buildings, garages, decks, fences, TREES, solar panels and other.  Development Permits are only valid for 12 months.  It is important to note that a permit or building permit will only be granted once all required information is submitted to the Development officer.  Allow for plenty of time for your project.
Step 1… RM of Francis Development Permit Application Form
Sample Diagram…Sample Of Drawing For Development
If you are building, renovating, adding, you will require a Building Permit along with the Development Permit.  Click below on the link which will take you to the PBI Inspectors website for the current forms and fill out the Review Checklist.  Scroll down and download the specification sheets that apply to your build and return all documents to out office.  If you require any assistance, please do not hesitate to contact the Development Officer Shala Kanasevich 306-245-3256.
Residential – PBI Residential Inspections Specs
Commercial – PBI Commercial Inspections Specs
Energy Code forms for both residential and commercial – PBI Energy Codes Specs
Extra information
Environmental Public Health Department
2110 Hamilton Street, Regina, SK S4P 2E3