INVASIVE PLANT CONTROL PROGRAM (IPCP)
The RM has adopted a Weed Management Plan in order for the RM and its ratepayers to have the ability to access funding for treating noxious and prohibited weeds through the Invasive Plant Control Program,
funded through the federal Canadian Agricultural Partnership program.
IMPORTANT FOR REIMBURSEMENT:
Preview the program guidelines and how it works and also to  be sure to read all current guidelines as incorrect rates or application of chemical applied may not be reimbursed. 
Feel free to contact your Plant Health Officer below for any questions about the program and application rates.
Plant Health Officer – SARM  – Tayo Adegeye AAg, P.Biol.
Plant Health Officer, SARM Division 1
306-580-8708
In April, the Sustainable Canadian Agricultural Partnership (SCAP) replaced the concluded CAP. It will be another 5-year investment by the federal and provincial governments.
There is a new addition to the rebate programs administered by SARM for the Ministry of Agriculture, it is a Gopher Control Program, and it will also be a 50:50 cost-share program to assist with the cost of registered gopher control products, raptor platforms, and nest boxes.
For information such as the program guidelines, new claim forms, and more please see the links below or contact your RM office or
Division Plant Health Officer Tayo Adegeye, Division 1
[email protected] or 306-580-8708:
---
New to the IPCP program:
The addition of another noxious weed Baby's breath. Please remember that Scentless chamomile is also one of the noxious weeds covered under the IPCP.
For your convenience, please view the new program guidelines for all four rebate programs, new claim forms, herbicide application record (for IPCP), and Appendix A (which is a list of eligible herbicides that can be used for this IPCP program year 2023/2024). Please let your pesticide applicators and WIs be aware of the necessary IPCP documents before spraying.
*Ratepayers Submit* Invasive Plant Control Program (claims deadline October 31, 2023): IPCP
WEED CONTROL PROGRAM
SCAP IPCP Program Guidelines 2023 24
SCAP IPCP Weed Inspector Claim Form
IPCP Herbicide Application Record
Please confirm with the RM office before spraying in co-operation with our weed management plan. 
A weed inspector is required to review the area and remember only specific herbicides are eligible for the program– and a specific application rate may apply.
Our appointed local weed inspector is Bob Baker. Call the RM office if you suspect weeds within your area.
MINISTER ORDER Weed Control Act  for all weeds designated as Prohibited Weeds & Noxious Weeds under The Weed Control Act. 
---
Spraying the weeds on your own property?
Spraying the RM right of ways: Right of ways in the RM were inspected for this year and are being sprayed.
Let your Division Councillor know if there are concerning weeds in your area and an inspection date will be determined.
The RM recommends these herbicides Truvist and Navius as they do not destroy grass and pasture land, which is preferable for our area. 
HIRE THE APPLICATOR: If you would like to spray on your own property you may contact:
Kevin Pierce @ Marksmen Vegetation (www.marksmeninc.com)
EMAIL:  [email protected]
*Kevin is familiar with the SARM WEED MANAGEMENT program and can assist in the application process, please contact him for more details and costs for your personal property*
---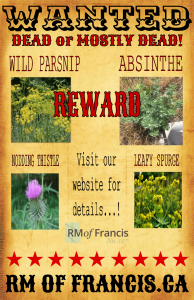 Click below for more info regarding the Weeds that may currently be affecting your property within the RM.
Wild Parsnip Best Management Practices
Weed Management Club Root  Click to find out more about Club Root and the Weed Management program at the RM of Francis. No 127