INVASIVE PLANT CONTROL PROGRAM (IPCP)
The RM has adopted a Weed Management Plan in order for the RM and its ratepayers to have the ability to access funding for treating noxious and prohibited weeds through the Invasive Plant Control Program, funded through the federal Canadian Agricultural Partnership program.
Contact the RM office or visit SARM Invasive Weed Control Program for more information, terms and conditions for funding through the program.
IMPORTANT:
Please confirm with the RM office before spraying in co-operation with our weed management plan.  A weed inspector is required to review the area and remember only specific herbicides are eligible for the program-Permitted Herbicides
MINISTER ORDER Weed Control Act  for all weeds designated as Prohibited Weeds & Noxious Weeds under The Weed Control Act. 
Spraying the RM right of ways: Right of ways in the RM were inspected for this year and are being sprayed.  Let us know if there are concerning weeds in your area and an inspection date will be determined.
The RM has hired Marksmen Vegetation for the 2020 season and they are using the herbicides Truvist and Navius for our Wild Parsnip and Absinthe.
The RM recommends these herbicides Truvist and Navius as they do not destroy grass and pasture land, which is preferable for our area. 
Informative brochures regarding the weeds found in the RM of Francis are posted below.
If you would like to spray on your own property you may contact:
Kevin Pierce @ Marksmen Vegetation (www.marksmeninc.com)
EMAIL:  [email protected]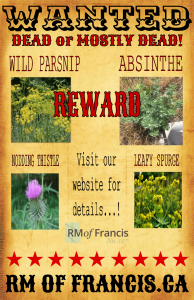 Wild Parsnip Best Management Practices
Weed Management Club Root  Click to find out more about Club Root and the Weed Management program at the RM of Francis. No 127